Margarita's World:  Dream Homes on Canvas
Incredible artwork by a self-taught artist, Margarita Boettcher.
One of my favorite pieces is called "Fairy Cottage", which she says is one of her early pieces that sums up her imagination as a child.  (Unfortunately I do not have the image for display.)  She drew her inspiration from one of my favorite animation films (which I watched with my children - because it wasn't around when I was a child). "The Secret of NIMH"
.
You must click the link above to Margarita's World - to view some more of her amazing work. or visit her store at Zazzle.com.
Her art is whimsical, delightful, enchanting and reflects a purity and innocence that totally captivates you!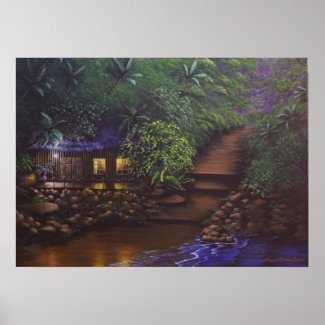 Retreat Poster
by
MargaritasWorld
Search for another
posters online
at Zazzle